*501(c)(3)

FALA Home Upcoming Events Photos Florida Alpaca/Llama Veterinarians Links Farms/Ranches
---
FALA Annual Meeting & Fun Day- Sunday, November 2
Rye Wilderness Park, 905 Rye Wilderness Trail, Parrish, FL
---
| | |
| --- | --- |
| Hello, my name is Mary Rose Collins, and I am the current President of the Florida Alpaca & Llama Association, Inc. (FALA). We began in July 2004 due to the growing desire and need for education of llamas and alpacas. Our Corporate purpose is to educate members and the public as to the breeding, raising, caring for and exhibition or showing of llamas and alpacas and to promote and advance the interests of the lama community as a whole. | |
Our Directors and Officers are as follows:
Mary Rose Collins, President
4211 S. Old Floral City Rd.
Inverness, FL 34450
Tel: 352-726-1104
Mrc604@tampabay.rr.com


Dan Moreland, Director
Tel: 352-425-2369





We started with 16 family/farm memberships and are growing everyday! We are a state wide organization and anyone is welcome to join our group.

Click Here to Download Our Membership Application

Our bylaws were developed with everyone in mind, not only the llama/alpaca breeders and owners, but for anyone interested in these animals we love so much.

We will and have held seminars on showing, shearing, worming, fecal testing, and more events are in the planning stages. We sponsor many of the alpaca and llama shows in Florida and the Southeast.
| | |
| --- | --- |
| | Anyone interested in joining our group can call any of the Board Members for information or contact our Treasurer, Ed Smyth, by phone or email at snowbearranch@gmail.com for an application and fee information. Or you can email me at Mrc604@tampabay.rr.com. |
Hope to hear from you soon!! Or maybe we will see you at an upcoming show!!
Mary Rose Collins
*PURSUANT TO THE REQUIREMENTS OF FLORIDA STATUTE 496.411, THE FOLLOWING INFORMATION IS PROVIDED: A COPY OF THE OFFICIAL REGISTRATION AND FINANCIAL INFORMATION MAY BE OBTAINED FROM THE DIVISION OF CONSUMER SERVICES BY CALLING (800) 435-7352 WITHIN THE STATE OF FLORIDA. REGISTRATION DOES NOT IMPLY ENDORSEMENT, APPROVAL OR RECOMMENDATION BY THE STATE OF FLORIDA. Percentage of each contribution retained by any professional solicitor: Zero%. Percentage of each contribution that is received by this organization: 100%.
---

FALA Magnets and Bumper Stickers!!
Magnet
8" x 5 1/2"
$3 plus $1 postage
Bumper Sticker
3" x 11 1/2"
$1 plus $.50 postage
Shipping can be combined. To purchase contact
SerenityHillsLlamaRanch@gmail.com

FALA Alpaca/Llama Clipboard
$8 each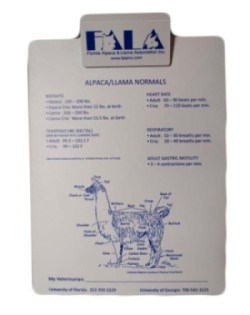 A great aid to have on your farm!
A vital gift to give to new owners who purchase your animals!
This acrylic, full size clipboard has alpaca/llama vitals for both adults and crias, including weights, temperatures, heart rates, respiratory rates and adult gastric motility. It also has a surface anatomical drawing identifying the body parts of the alpaca/llama. There is a line for you to write your veterinarian's name and phone number and phone numbers for the University of Florida and University of Georgia veterinary hospitals for use in an emergency. A hole in the clip allows you to hang it where it can be readily accessible. Available for $8.00 each, plus shipping.

Shipping for Florida only
1 - 2 clipboards $5.00
3 - 4 clipboards $6.00
Outside of Florida, or for larger quantities, contact us at SerenityHillsLlamaRanch@gmail.com

To purchase:

Contact SerenityHillsLlamaRanch@gmail.com to order your clipboard.

Or
click the Donate button below.
---
Upcoming Events Photos Florida Alpaca/Llama Veterinarians Links Farms/Ranches Top of Page

©2014 Florida Alpaca Llama Association
c/o Snow Bear Ranch, 8751 SE US Highway 301, Hawthorne, FL 32640